Environmental Field Services, Inc.
Technical Field Support for Engineers, Environmental Scientist, Geologists ,and Hydrogeologists.
EFS prides itself on supporting environmental consultants with their field activities. In todayís world environmental consultants have to run lean on personnel, which means when the consultant acquires that large client the field personnel or the expertise may not be on staff. The hiring of any additional, qualified associates may take several weeks, if not months, to secure. This is where EFS can help.

EFS has helped small and large environmental consulting and engineering firms with the operation and maintenance of their remediation sites. When a firmís projects become costly for the consultants to service due to distance, time and personnel constraints,EFS provides cost-effective, efficient, quality environmental field services. So, whether your needs are monthly groundwater gauging, quarterly low-flow sampling, or the O&M of a Superfund Siteís pump and treatment system, EFS will happily give you the support that you need - when and where you need it.


Subsurface Investigations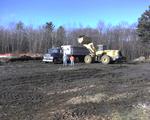 Remediation Construction Oversight
Groundwater Remediation Systems OM&M
Environmental Field Services, Inc.
14 Middle Highway Barrington, Rhode Island 02806
Fax: 401-246-2999 Call: 401-246-2400
email: contactefs@efs-inc.com